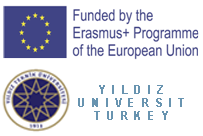 Call for Application for the Erasmus+ KA107 Program to Obtain Credits at the University of Yildiz in Turkey 2019-2020 : Department of Civil Engineering & Hydraulics
Under the framework of the Mobility Program Erasmus+ KA107 that pursued by the Inter-Institutional Agreement (IIA) between Biskra University and University of Yildiz (Turkey), We are pleased to inform our PhD students who belong to the Department of Civil Engineering and Hydraulics that Four 04 PhD students have the opportunity to spend five (05) months for each one at Yildiz University for the Second ( 2nd ) Semester 2019-2020.
Application file composed of:
- Motivation Letter,
- Enrolment Certificate,
- Curriculum Vitae with attached justifications,
- The Research Problem signed by the Supervisor,
- Descriptive Annex of the Master Degree,
- Copy of the Passport first Page,
- English Language Certificate (minimum B1) or Turkish Language Certificate (minimum B1), issued by the Intensive Center of Foreign Languages CEIL of Biskra University.
Important Information
The students should apply via :
https://goo.gl/forms/PaDYjQ1jamoPUfiA2
Ø Submission Deadlines: Tuesday 10/12/2019,
Ø Study of the applicants files: Wednesday 11/12/2019,
Ø The nominated students list: Sunday 15/12/2019.